CBCA Rule on Length of Water Craft
No motorized water craft (excluding pontoon or sailboats) exceeding 24 feet,
4 inches in length, as determined in accordance with United States Coast Guard
regulations, are permitted. Length is measured from the tip of the bow in a
straight line to the stern. This does not include outboard motors, brackets,
rudders, bow attachments, or swim platforms and ladders which are not a molded
part of the hull. See illustration below.
Picture of Length Measurement Of Inboard Motor Boat: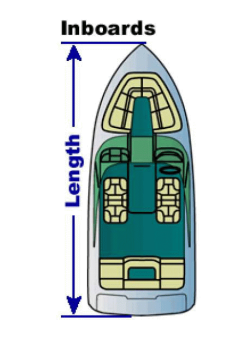 Picture of Length Measurement Of Outboard Motor Boat: